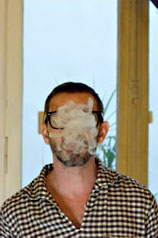 © marc domage
christan rizzo
christian rizzo was born in 1965 in Cannes. His artistic career began in Toulouse, where he started a rock band and designed a line of clothing, after which he studied fine arts at the Villa d'Arson in Nice, then unexpectedly branched out into dance.
In the 90s he performed with a number of contemporary choreographers including mathilde monnier, herve robbe, mark tompkins and georges appaix, and sometimes created soundtracks and costumes for them as well.
He also worked with choreographers with a different artistic approach, such as vera mantero, catherine contour, emmanuelle huynh and rachid ouramdane.
In 1996 he founded l'association fragile and began presenting events, dancing objects, solos and group pieces, as well as various projects and commissioned work in fashion and the visual arts.
Since then, over thirty projects have borne fruit, not counting his pedagogical activities. christian rizzo teaches on a regular basis in art schools in France and abroad, as well as in establishments devoted to contemporary dance.
performances, projects, exhibitions
2014
Ou pas
- living installation designed in collaboration with caty olive and presented in the frame of "Printemps du Ballet National de Marseille"
2013
d'après une histoire vraie.
de quoi tenir jusqu'à l'ombre
– performance for Compagnie de l'Oiseau-Mouche
aïlòviou, je l'écris comme je le prononce
- libretto didier galas, music pascal contet and joël grare, direction christian rizzo, lights caty olive
2012
néo fiction
Tannhaüser
- direction for Théâtre du Capitole de Toulouse
sakınan göze çöp batar
le bénéfice du doute.
2011
tourcoing - taipei - tokyo
- installation
De quoi tenir jusqu?à l?ombre
- preview of a performance for compagnie de l'oiseau mouche for a creation planned in January 13 ]domaines[ - CCN de Montpellier
2010
as me as a dog as…
- series of photographs presented during the Yokohama France Video Collection 2010 at the Red Brick Warehouse. Curated by Stephen Sarrazin – Japan.
l'oubli, toucher du bois.
Erwartung, Pierrot Lunaire, La Voix Humaine
- three operas directed for the Théâtre du Capitole in Toulouse.
2009
Le sort probable de l'homme qui avait avalé le fantôme
– exhibition co-curated with Bernard Blistène at the Conciergerie in Paris on the occasion of the « nouveau festival » by the centre Pompidou.
« qui va là ? »
- carte blanche to l?association fragile/christian rizzo at the Opéra de Lille for the opening of the season.
here we are now
– virtual exhibition realised in collaboration with iuan hau chiang at the Taipei Artist Village - Taiwan
IL – 120609
– installation realised in collaboration with iuan hau chiang presented at Panorama 11 at Le Fresnoy, Studio national des Arts Contemporains, and then on the occasion of the Festival Ososphère in Strasbourg.
ni cap, ni grand canyon
– choreography for the ballet de l?Opéra de Lyon.
2008
i-fang lin / christian rizzo
- (sujet a vif)
comment dire " ici " ?
- french-taiwanese creation for " dance forum taipei "
mon amour
2007
fantomes et vanites
- a fragmented self-portrait by christian rizzo for the Cinematheque de la Danse
toutes sortes de deserts
- a proposal from christian rizzo for Via Katlehong Dance in a programme with Robyn Orlin entitled " Imbizo e Manzini "
opera(tion)-remix
- carte blanche to christian rizzo for the Happy day opening of the 2007-2008 season of the Opera de Lille
b.c, janvier 1545, fontainebleau.
exhibition for the 20th anniversary of the fashion house of christian lacroix
- staged by david dubois and christian rizzo at the Villa Noailles / 22nd festival international de mode et de photographie
2006
love, letters and vanities
- residency / exhibition / performance - Taipei Artist Village - Taiwan
jusqu'à la derniere minute on a espéré que certains n'iraient pas.
2005
comme crane, comme culte.
- (sujet a vif)
soit le puits était profond, soit ils tombaient très lentement, car ils eurent le temps de regarder tout autour.
in (out) format
- a proposal from christian rizzo for rafael alvarez
le cas du sac
- exhibition in collaboration with Maison Hermes - Musee de la Mode et du Textile (Fashion and Textiles Museum)
2004
ni fleurs, ni ford mustang
- a proposal from christian rizzo for The Ballet de l'Opera de Lyon
autant vouloir le bleu du ciel et m'en aller sur un ane.
2003
numero 13
- performance - Fondation Cartier / soirees nomades "odorama"
.../... (b) (rencontre improvisée) christian rizzo et bruno chevillon
2002
avant un mois je serai revenu et nous irons ensemble en matinée, tu sais, voir la comédie ou je t'ai promis de te conduire.
skull*cult
- a proposal from christian rizzo with and for rachid ouramdane (Sujet a Vif)
+ si affinites
- performance - FIAC
2001
un mensonge (deux nuits d'ete)
- performance for a garden - festival entre cour et jardins
et pourquoi pas : " bodymakers ", " falbalas ", " bazaar ", etc, etc... ?
1999
100% polyester, objet dansant n° (à definir)
hello dolly
- performance - LAB n°7 ginjal - Lisbonne
1997
projet-type(s)
- performance object for a glass space - vitrines du studio " Ville de Paris "
y, là
- solo